THANK YOU!
Thank you for wanting to help promote this giveaway hop! This is completely optional and never required, but I truly appreciate your help! The bigger we can make this event → the higher entries and traffic will be for EVERYONE!
NOTICE: There are images in the HTML code below that are linked to our banner and button via. Photobucket. You must use these URL's OR save the banner or button found below and upload to your own server. Image URL's copied and pasted onto another server directly from MamaNYC.net will appear as BROKEN images. I appreciate your help, so I want to make sure you don't post with broken graphics. Thank you!
LINK TO SIGN UP'S @ http://bit.ly/P2BiqL
---
Promotional Post HTML Code
Copy and paste the following HTML code to help us promote this event. Feel free to EDIT THE HTML code below, which is HIGHLY recommended. Duplicate content from blog to blog will hurt PageRank and search engine rankings. Change a few words around, add in a sentence, etc.!
)
---
Event Button & Banner
Photobucket URL:
http://i1191.photobucket.com/albums/z464/mamanyc/MamaNYC%20Events/Winning-Thanksgiving-Hop-Banner.png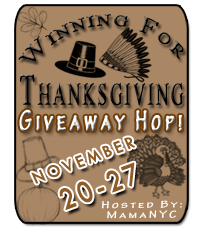 Photobucket URL:
http://i1191.photobucket.com/albums/z464/mamanyc/MamaNYC%20Events/Winning-Thanksgiving-Hop-Button.png