MamaNYC will be hosting the 2nd annual Cupids Cash Giveaway, which was a HUGE success in 2012! Interested and want to participate in this cash giveaway event for Valentine's Day? Keep reading for additional details. Participating will only cost you $5.00 (minimum), but the perks and promotional benefits are priceless! The plan is to make this a HUGE event (again). The goal is for over 200 participants ($1,000+ prize!). Let's start off expecting $500.00 prize, but aim for the stars!
*Our first annual Cupids Cash event in February 2012 was a tremendous success last year for our participants and our winner, too! The giveaway prize was for $850.00 PayPal CASH which rang in nearly 200,000 entries.Participants saw an average of… 2,300 Facebook fans, 800 GFC followers, 600 Networked Blogs followers, 1,700 Twitter followers, 900 Google+ Plus circle additions, and 700 Pinterest, Email and RSS subscribers each!
---
The Cupids Cash Giveaway will launch on Friday, February 1st (12:01am EST) and end on Thursday, February 14th (11:59pm EST).
This event will feature over 100 bloggers and serve as an excellent tool to help build your followers and readership!
We will be giving away over $500 in PayPal Cash!
Each participant will be required to pay a minimum $5.00 in order to participate in this event. This fee will be used towards the prize [only].
You may increase your followings and pay an additional $5.00/each.
You decide on how entrants will follow/like your blog! Facebook, Twitter, Pinterest, RSS, Email subscription, Networked Blogs, GFC — it is up to you!
I will provide a Rafflecopter form code that you will use on your post. Compose a simple post explaining the rules, regulations, and how this giveaway works. Tell entrants that they only need to enter on ONE blog! The same Rafflecopter form is going to be used for ALL participants. This is a VERY easy giveaway! Just schedule your post to go live at midnight on February 1st and you are done. MamaNYC will handle the rest!
PERK! I will provide Tweets, Facebook shares, and other forms of promotion for all participants! I will be sending out up to 5 promotional tweets (unrelated to this event, but participants selected and submitted) during the week prior to this event. Once the event begins, I will continue to tweet all of your direct links for this event. This will help ALL of us! Of course I hope all of you will help and tweet one another's giveaways, but this will be my responsibility.
Another perk! Anyone that decides to purchase 3 or more entry options for this event ($15+): I will handle your daily giveaway linky promotion! This will include sites like Online-Sweepstakes.com, Prizey, CashNet, Sweepstakes Advantage, SweepsGoat, and more! I will be going through a list of daily linky's as well and handle your promotion.
The plan for this giveaway event is for a prize total of $500.00.
The more blogger sign up's that we receive, the higher prize value we will have!

While 100 blogger signup's means $500, if we reach 200 participants we can have a prize worth over $1,000!

I will announce the GRAND total prize amount on January 28th when I send out the Rafflecopter form and final details for this event.
Sign up's will run from Saturday, December 19, 2012 until Saturday, January 26, 2013.
Please remit your PayPal payment to Nicole@MamaNYC.net (as a gift) and include your blog URL and name in the notes.

Make sure you mention your payment is for the Cupids Cash Giveaway!

Fill out THIS FORM so that I can match your payment up with your details. ($5.00/EACH follow link!)
I will send you a confirmation within 24 hours letting you know that I have received your payment and form. If I have any additional questions or require more information they will be included in the confirmation email.
An email will be sent out on January 28, 2012 with a Rafflecopter code, additional details, final prize amount, and any other final details.
Promote This Event!
Let's spread the word and get this event HOPPING! I have put together a FULL post HTML code for you to easily copy and paste information to help me promote this event. This is OPTIONAL and entirely up to YOU! Posting and sharing event details is never (ever) a requirement for MamaNYC hosted events.

CLICK HERE to receive a full post code to promote this event! I know it can be time consuming to write a post, but copy and pasting the event information will take less than a minute! 🙂 Plus, you'll be spreading the LOVE so that other bloggers can participate (isn't that what this event is all about!?). The only recommendation that I would like to make is that you reword the post – even just a few words – because duplicate content will be penalized by Google. Flip a few words, toss in another sentence, and make adjustments to fit the content into your own voice.

Event Banner & Button: Since I have right-clicking and hotlinking disabled on MamaNYC, I have provided all of you with a Photobucket URL so that you can use the Cupids Cash event button and/or banner.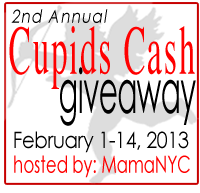 Button: http://i1191.photobucket.com/albums/z464/mamanyc/Cupids-Cash-Giveaway-Button.png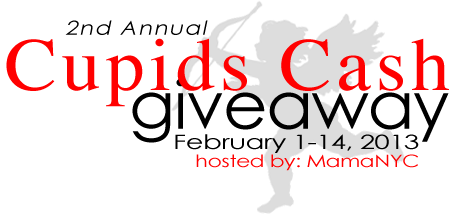 Banner: http://i1191.photobucket.com/albums/z464/mamanyc/Cupids-Cash-Giveaway-2013-Banner.png
---
Questions? Comments?
Feel free to send an email to Nicole@MamaNYC.net if you have any questions about this event.